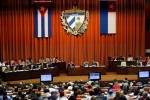 After two days of meetings as part of the twelve permanent commissions of the Cuban National Assembly (Parliament), on Thursday, the members of the legislative body begin their work in plenary sessions to discuss and assess key social and economic issues.By ACN
The agenda includes the discussion of details of the Economic Plan and Budget for 2012, and reports from the National Institute of Sports, Physical Education and Recreation (INDER), as well as from the permanent Commission of Foreign Relations, and from the Commission of Industry and Construction.
These meetings are taking place prior to the Eighth Ordinary Period of Sessions of the Seventh Legislature of the National Assembly, scheduled for Friday, December 23.
On Tuesday, the president of the Cuban Parliament, Ricardo Alarcon, congratulated the Cuban people and said that hard work and discipline are key factors to face and overcome any difficulties in the year 2012. He also insisted on the need to boost international solidarity to obtain the freedom of the Cuban antiterrorists who remain unjustly incarcerated in the United States.