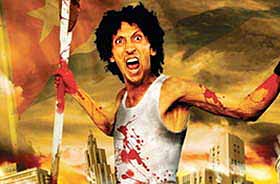 The Cuban film Juan de los muertos of director Alejandro Brugues was priced as most popular in Havana´s 33rd International Film Festival of New Latin American Cinema.
Some 5,000 votes confirm that Cuba´s first history on zombies attracted many movie goers, many more than Argentina´s Un cuento chino, also a favorite among the contenders.
Alfredo Guevara, president of the event, said at Sunday´s closing address that the goal of art is totally revolutionary and called to create a Community of Latin American and Caribbean States in this avenue to foster audiovisual unity able to cope with imperial banality while knitting a culture of resistance, as with to the Metropolis that invaded and colonized the Americas.
Guevara proposed to convene workshops for the 2012 edition to rethink the Southern Cone, Mexico and Cuba and expand and develop defense of regional multiple identity.
At the closing Gala, the International School of Cinema and Television of San Antonio de los Banos was awarded a Coral of Honor on its 25th anniversary, a period in which it trained 736 pros., including several award winners from Havana´s event.