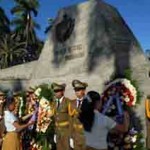 Floral wreaths on behalf of Cuban Revolution leader Fidel Castro and President Raul Castro were laid at a monument at the Santa Ifigenia cemetery, in the eastern Cuban city of Santiago de Cuba, in honor of the Cubans who died during internationalist military missions in Africa.
Every December 7, Cubans mark an anniversary of the day in which the mortal remains of those who died during meeting their duty in Africa were brought back home and buried in 1989.
At the Santa Ifigenia cemetery, the people of Santiago de Cuba also commemorated the death in combat of Lieutenant General Antonio Maceo, 115 years ago, and the birth of the 26 of July Movement leader Frank Pais Garcia, in 1934.
Other wreaths laid at the Pantheon were on behalf of the Association of Veterans of the Cuban Revolution, the Cuban people and relatives of those who were killed in action. (ACN)  (photo taken from sierramaestra.cu)