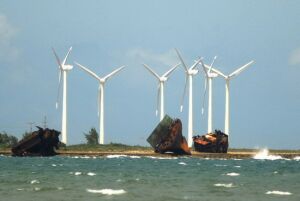 In a conference on the current situation of eolian energy in Cuba, Engineer Fernando Medinilla said there are some barriers for its development, including the high total cost, especially in the beginning, the environmental impacts and the planning of electrical systems.
A workshop to present the results of a project on the characteristics of wind in the central province of Sancti Spiritus to use it as a renewable source of energy, and to exchange experiences, was held here on Tuesday.
There are four major eolian parks in Cuba: Turiguano, in Moron, Ciego de Avila; Los Canarreos (Isle of Youth); and Gibara I and Gibara II, both in the eastern province of Holguin.
Doctor Tomas Cancio gave a conference of eolian energy and water supply in Sancti Spiritus, from the emergence of wind mills until their arrival in the Netherlands, Brazil and the United States.
Cancio said that old cattle raisers assured that wind mills existed before over 70 years ago.
In Cuba, more than seven million wind mills are used to supply water. In Sancti Spiritus (217 miles east from Havana), there are 700 wind mills in different productive sectors, but their number has increased over the past five years.
(Taken from PL)