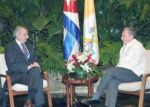 President of the Cuban Council of State and Ministers, Raul Castro Ruz, received a delegation of the Holy See presided over by doctor Alberto Gasbarri, in charge of organizing international pontifical tours.
By PL
The Granmma and Trabajadores newspapers reported that Raul Castro welcomed the official announcement of the forthcoming visit to Cuba of His Holiness Benedict 16 and assured the Supreme Pontiff of the Catholic Church and Head of State of the Vatican that he will be received with affection and respect by the people.
Last Sunday's talks confirmed the excellent relations between Cuba and the Holy See and assessed how the preparations for the visit are going.
The meeting was also attended by Cardinal Jaime Ortega Alamino, Archbishop of Havana, His Excellency Monsignor Bruno Musaro, papal nuncio in Cuba, Monsignor Dionisio Garcia Ibañez, Archbishop of Santiago de Cuba and President of the Catholic Bishops Conference in the Island.
Esteban Lazo Hernandez, Vice President of the Council of State, Bruno Rodriguez Parrilla, Foreign Affairs Minister, Homero Acosta Alvarez, secretary of the State Council and Caridad Diego Bello, head of the department in charge of Religious affairs at the Central Committee of the Cuban Communist Party, also took part in the talks.