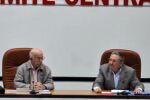 Cuban President Raul Castro called for a firm struggle against neglect and irresponsibility, which damage national economy, during the 3rd plenary of the Communist Party Central Committee on Wednesday.
In his remarks at the meeting, Raul Castro, who is also the first secretary of the Communist Party Central Committee, said that such problems are the consequence of passive attitudes assumed by some leaders and the lack of comprehensive performance by the political organization, according to a report by Cuban television.
We cannot admit weaknesses that favor criminals and corrupt persons, said Raul who since he took office has been boosting a strong fight against corruption on the island.
The struggle against corruption and crime cannot admit any more ceremonies, he said, PL news agency reported.
The Central Committee meeting also addressed crucial issues for the country, including the economic plan and the budget proposed for 2012, which will be submitted to the Parliament on Friday.
Meanwhile, the second secretary of Cuba´s Communist Party Jose Ramon Machado Ventura called for increasing rigor and efficiency in all sectors of society.
He underscored the role played by the political organization in the process updating the Cuban economic model and in the enforcement of the guidelines approved by the latest Communist Party congress.