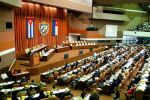 The Cuban National Assembly (Parliament) announced on Tuesday that further expanding international relations and links with parliamentary bodies around the world will be a top priority on its agenda for the coming year.
By ACN
During a meeting of the Foreign Relations Commission of this legislative body at Havana's Palco Hotel, the president of the commission, Ramon Pez Ferro, urged the legislators to achieve a greater impact and increase their contribution to the implementation of the Cuban Revolution's foreign policy.
"Expanding and strengthening parliamentary relations around the world and in international organizations, and promoting global solidarity with the cause of the Cuban Five and against the U.S. economic blockade of Cuba, are top priorities for the coming year", he said.
Pez Ferro added that, in 2011, the 27 members of the Foreign Relations mechanism of the Cuban parliament participated in activities that involved 151 visiting delegations that included 942 parliamentarians from 78 countries.
He highlighted the fact that today the Cuban Parliament is a member of the Inter-Parliamentary Union, the Latin American Parliament, the Parliamentary Confederation of the Americas, the Inter-Parliamentary Forum for the Americas, the Europe-Latin American Parliamentary Assembly, and the ACP-EU (African, Caribbean, Pacific-European Union) Joint Parliamentary Assembly. .