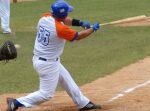 Although Sancti Spiritus baseball team was defeated by Ciego de Avila's 4-3 in the Sunday game, Roosters won the three-game series 2-1 while maintaining the second position of the Western region in the 51st Cuban baseball national season.
By Elsa Ramos Ramírez
Sancti Spiritus bats continued to be frozen as they only shot 8 hits in the subseries vs. Ciego de Avila Tigers, in which all the encounters ended with a difference of only one run.
With excellent performance of both starters, the game balanced to Tigers, when they managed to score first in the 6th before Yoen Socarras.
Sancti Spiritus tied in the bottom of the 6th before Raicel Poll but Ciego de Avila fought hard and won the game in the 8th when Abdel Civil shot a golden hit with the house full.
Roosters are currently placed second in the Western Region with an 8-7 record and follow close Matanzas, first positioned with two games ahead.
Sancti Spiritus starts a new three-game series vs. Holguin in the Jose Antonio Huelga Stadium, where they will play during Tuesday, Wednesday and Thursday.