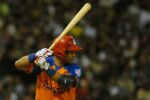 With a stable performance during the beginning of the 51st Cuban baseball season, Sancti Spiritus team top the Western region as they start on Monday the 4th three-game series vs. Matanzas Crocodiles. They currently hold a 6-3 record after having won subseries vs. Pinar del Rio, Santiago de Cuba and Las Tunas.
By Elsa Ramos Ramírez
Roosters (Sancti Spiritus baseball team nickname) have won their three-game series vs. defending champions Pinar del Rio, vs. Santiago de Cuba wasps and Las Tunas. They currently hold a 6-3 record, and have Industriales and Matanzas as close followers.
Ruperto Zamora players lead the pitching area in a national scale (2, 91ERA), with an outstanding relieving staff performing for a 2, 34 ERA
The offensive field is a little bit more discrete, with a 259 average, below the national average. Only three of Sancti Spiritus men go above the 300 average: Yunier Mendoza (364), Yuliesky Gourriel (343) and Frederich Cepeda (308).
The defence area has also performed unstable with 11 errors, for a 969 average.
Sancti Spiritus will face Matanzas during Monday, Tuesday and Wednesday in the latter's headquarters.