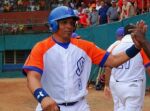 An excellent performance of Matanzas lefty Yosvani Fonseca, give victory to Crocodiles over Sancti Spiritus Roosters in the 4th three-game series of the 51st Cuban baseball national season. Thus, Victor Mesa's players defeated Zamora's 7×2 in the Victoria Giron Stadium while tying in the top of the Western region.
By Elsa Ramos
Matanzas experienced pitcher allowed only three hits and one run in 6.1 innings, muting Sancti Spiritus' offensive, one of the most powerful in Cuba. Reliever Yasmani Arias kept Crocodiles' advantage.
Matanzas batters shot 11 hits and profited of Roosters' lousy defence (5errors). They produced a 4 runs rally in the second chapter before Sancti Spiritus starter Yamichel Perez, who got defeated for the second time in the tournament.
Roosters' runs were caused by Eriel Sanchez fifth homerun in the championship (co leader) and Frederich Cepeda, who brought over home plate Robersis Ramos with a double.
Both, Roosters and Crocodiles hold identical record of 6-4 and top the Western region in the 51st Cuban baseball national season.
Wednesday will be key as the winner will remain the sole leader in the regional group.