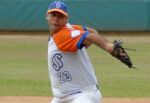 Golden hit by Yuliesky Gourriel in the 10th inning gave Sancti Spiritus victory over Ciego de Avila 4-3 in the Friday night game of the 51st Cuban Baseball Championship.
Tigers took the lead in the very first inning by Rusney Castillo's solo homer before Roosters' ace Ismel Jimenez.
However, Sancti Spiritus center field Robersis Ramos became the star of his team and brought over home plate two runs to tie and go ahead.
Roosters were winning 2-1 in the eighth when Castillo shot hit, stole second base, reached third on an error and scored the tie for Tigers.
In tie break rule rookie Leodanis Perez substituted Sancti Spiritus starter and Castillo shot single again with two men on board to give Tigers advantage of 3-2.
Then when it was Roosters time, Yuliesky Gourriel shot a golden hit with the house full and Sancti Spiritus sealed the victory in a very tight encounter.
Reliever Perez took his first win in Cuban baseball while Yadir Rabi was defeated.