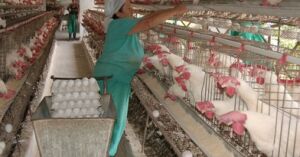 According to preliminary statistics, Sancti Spiritus ends December with positive results in the main indicators of its economy. In a general sense, entities in the Cuban central province went beyond the established programs and the mercantile production as well as the physical production reported a significant increment.
By Mary Luz Borrego Diaz
Rice cultivation outstands as some 110 000 tons are expected to be gathered if the weather remains favourable, as well as the volume o pork meat delivered at a national scale.
Merits can also be given to the egg production, the fish industry, the dwelling construction, sugar manufacturing and the growing sugarcane cultivation and bean cropping, among other spheres.
Actions are being carried out in a way that commitments made to coffee production and honey extraction can be met. Other important exportable items are also expected to be met.
Among the negative notes are milk storing and fruit delivering, as well as the industrial processing of onion and garlic.