By Escambray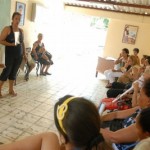 The Counseling Center for Diabetics in Sancti Spiritus, central Cuba, has functioned as a day hospital care since 2001 while assisting more than 14 200 patients suffering from that disease.
Sancti Spiritus radio station digital site refers that the facility offers a specialized ambulatory service for diabetic patients, having greater confluence the specialties most demanded.
Dr. Leidis Francisco Gonzalez, director of the center, explained that among the specialties dealt we can find Nutrition and Diabetics, Diabetology, Geriatrics, Gastroenteroly, Nephrology, Psychology, Natural and Traditional Medicine and Podologyst Care as well as the multidisciplinary consultations carried out in the institution.
The Center also offers workshops to children, teenagers, young people and adults where interesting topics are dealt to show patients how to handle the disease.
The Counseling Consultation takes place on Wednesdays and everyone interested may participate.
Sancti Spiritus Counseling Center for Diabetics, in central Cuba, has a key role in the treatment of patients requiring special care, and also in the research an training of the human resources for the work to be done in polyclinics, family doctors houses, and hospitals while handling an incurable but treatable disease.