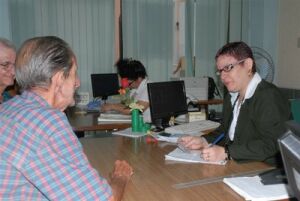 December 20th marks the beginning of the bank credits launching in Sancti Spiritus, and in the rest of Cuba. The opening to the new banking service aims at self-employed workers and land tenants as a means of boosting private businesses and dynamizing the territory's economy.
By Mary Luz Borrego
Oscar Luis Hung, director of the Popular Saving Bank (BPA) in Sancti Spiritus, explained to Escambray that loans intend to facilitate entrepreneurs as well as enhance the agricultural production.
With the new option, all land tenants will get benefits, whether they are owners or usufructuaries. These may go to the retail trade network to acquire agricultural tools and inputs.
As for the self-employed workers, the objective is to encourage them, to provide them with the things they need. The banking credits moves in to directions in this case: to the work capital (for raw material and labor force) and to investments (to buy things, to restore, to widen).
Cubans interested in this new choice may address to the Credit and Commercial Banks (BANDEC) and to BPAs.