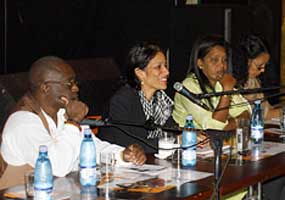 Scheduled to begin on Thursday, the international jazz festival in Cuba will be attended by a large delegation of U.S. professors, headed by saxophonist Neil Leonard, pianist Joanne Brackeen, who are professors at Berklee College of Music, in Boston.By PL
Musicians from Mexico, the United States, Japan, India, Austria and Poland will join  Cuban musicians at the 27th Jazz Plaza Festival in Havana.
The United States will be also be represented by pianists Arturo O Farrill and Gonzalo Rubalcaba, as well as bassist and cellist Kash Killion.
Other participants will be Laberinto del Caos, a Mexican fusion jazz band; Japanese pianist Nori Ogawa, who resides in Mexico; Indian singer Joe Alvares and his group Naad Brahne; Polish pianist Mateusz Kolakowski, and Austrian bassist Uli Langthaler and his Triple Ace.
This festival, which is dedicated to classical music and jazz, will be held at Mella Theater, the Plaza House of Culture and Astral Theater; as well as six additional locations in Mella Theater's Gardens, the Alba Cultural House, the National Museum of Fine Arts, the Bertolt Brecht Café-Theater, the Vedado Hall at the Hotel Nacional, and Casa del Habano at the Cohiba Hotel.