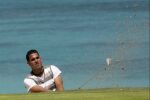 In briefing Cuban parliamentarians on the most important outcomes of the travel industry this year, Tourism Minister, Manuel Marrero, stressed that 2012 goals are quite challenging. He mentioned projects for creation of golf courses.
By ACN

Speaking before the Cuban parliament's standing commission on services, Marrero reaffirmed that the island reached a record number of tourist arrivals this year and Canada was confirmed as its leading market expected to send to the island its traveler number one millionth before yearend.
The plan for next year is a huge challenge for the workers in the sector as the goal is to have 2.9 million visitors, which would surpass 2011's arrivals, Marrero stressed.
He said among the island's main assets, there is a growing demand for nautical offers which he noted could be further exploited and stated that deeper attention should be made on national tourism which is on the rise.
In relation to the quality of services, Marrero said the eastern province of Holguin shows the highest satisfaction and quality rate of the country, based on the customers and tour operators' opinions.
On view of the 2012 plan, the Tourism Minister said several investment projects are currently underway along the island, while hotels in different resorts are getting an up-lift. He also mentioned projects for creation of golf courses.