Hotel del Rijo belongs to Cubanacan Hotels Company. It inherited the name of one of its owners back in 1815. Son of Mrs María del Rosario Rijo y Gil and the doctor on medicine José Manuel García Cañizares, the outstanding doctor graduated in the city of Paris.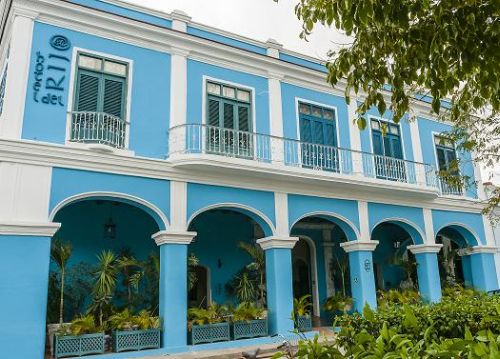 Mr Rudesindo García Rijo studied to become an eye specialist, gynaecologist surgeon, bacteriologist, sanitarium, specialties that he practiced in Sancti Spiritus and its surroundings. He could have been a wealthy person, but what embraced him the most was his humility with the poors.
His greatest satisfaction and interest was to cure poor sick people without any kind of payment and most of the times, if it was necessary, facilitating them the medical supplies.  He visited people at home receiving a payment for these services, but every Thursday, he assisted freely the ones who needed them. Besides he introduced the system of diagnostic by means of the clinical history. He was recognized as an outstanding person in the Cuban medicine of the XIX century. He was a member of the Medical, Physical and Natural Sciences Academy of Havana. García Rijo attended the First Medical Congress that took part on Havana on January of 1890, his intervention was really relevant.
He married Mrs María Weiss Verson, a poet from Sancti Spíritus. He headed the medical magazine La Higiene, which was very popular among the doctors and intellectuals for more than 30 years with a great success. He not only created a school, but also supplied it with food, clothes and didactic materials. Rijo was part of the First college of Medicine of Sancti Spíritus. Because of all the relevant things he made and because of having criticized the society of his time, he had some people on the Government against him, but his followers always not only continued admiring him but also defending him.
He had a tragic and unexpected death at the age of 60 on his farm called Las Lajitas by a murderer that was surrounding the city on September 15th, 1912. On the same year   his widow María Sofia left the country and the building became a religious school for girls.
On the fourties the construction became a house for lodging and took the name of its owner Segundo Diaz.
With the triumph of the Revolution the government passed a law that recognized the occupation of the lodgers, increasing even more the damages and the transformations of the building. The rescue works and the investigation started on 1988 increasing on the 90s. On November 2001 the facility opened its doors as Hotel Encanto turning to be an attraction for international tourism.
Translated by Isabel C. Bezada Carrazana and Arismendi Hernández Rodríguez.