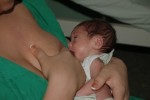 "The infant mortality rate in Cuba, at 4.2 percent per 1,000 live births, shows that regional strategies and plans on this issue are fulfilled", said Roberto Alvarez, head of Maternal and Child Department from Public Health Ministry.
In an interview published today in Granma newspaper, he said that this achievement also reflects the fulfillment of the goal of reducing mortality of children under five years, proposed by United Nations Millennium Development Goals.
"It also shows the implementation of Post-2015 Development Agenda recommendations", he said.
He said that the feat of Cuba is an expression of how far is capable of reaching a just society and an accessible and general public health system that provides full coverage and benefits itself from intersectoral and active participation of the community.
Alvarez also stated that domestic progress on that issue is not an isolated event since Cuban Government has developed strategies and policies aimed at continuous improvement of maternal and child health.
He highlighted the vaccination programs, the educational and cultural level of our people and the progress that has been achieved by women since the very beginning of the Revolution in Cuba.
He also presented data regarding reduction of mortality due to congenital malformations and compared numbers from 2012, which showed 26.2 percent, while it declined to 20.2 percent in 2013.
"Newborns are assisted by neonatologists in every risky birth, they are provided with a joint room and receive breastfeeding, they are early assisted when they suffer from congenital heart disease and are given neonatal surgical treatments in specialized centers", said Alvarez.
He highlighted that newborns are studied regarding six congenital errors of metabolism while they are monitored during their growth and development, as well as their nutritional condition, and there are protected from 13 diseases by vaccines.