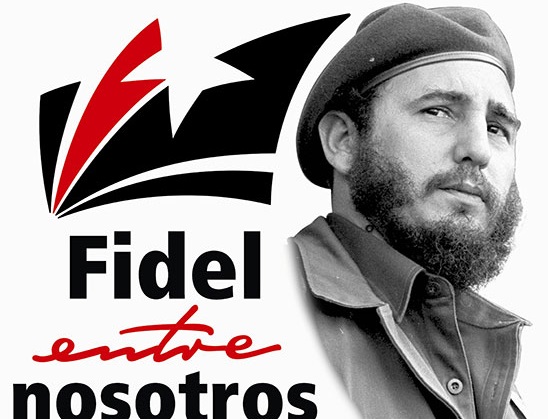 "Fidel is the father of many generations of Latin American revolutionaries, just as he is of the Cuban Revolution, of his people, of his friend Hugo Chávez," said Adán Chávez, brother of the deceased Bolivarian Comandante, opening activities to honor Fidel on the occasion of his 90th birthday, set to take place here through the 13th
Bolivia Honors Fidel Castro with Photographic Exhibition
Ecuador Commemorates Fidel Castro's 90th Birthday
"For Venezuelans it is very difficult to talk about one without talking about the other, of the reference that Fidel was for Chávez, and at the same time a son to him, a son in the struggle, but definitely a son, and as happens in all great father-son relationships, they then became best friends," said Adán Chávez, governor of the state where the Eternal Comandante was born.
"Happy birthday, dear father," he exclaimed, at the close of a panel discussion entitled, "Fidel Castro, five stripes and a star" which opened a broad program to honor Fidel organized by the Casa del Alba Cultural here, the Venezuelan counterpart to the institution located in Havana.
Participating were friends of the island, political and community leaders, musicians, poets, and Cuban professionals on cooperative missions, all sharing the joy of Fidel's 90th birthday.
Also inaugurated was the exposition Comandante Amigo, featuring photos of the Cuban leader by eminent photographers Liborio Noval, Osvaldo Salas, René Rodríguez, Cándido Moyo and Félix Gerardy.
The show includes shots of great artistic value of Fidel's face, and transcendental moment in the Cuban Revolution, such as his meeting in a Mexican prison with Che before the Granma yacht's departure; his interview in the Sierra Maestra with U.S. journalist Herbert Matthews; and in the company of Hugo Chávez during the founding of the Bolivarian Alliance for the Peoples of Our America.
A series of discussions are scheduled to address a variety of facets of Fidel's work, as a promoter of culture, international solidarity, and women's liberation, as well as the importance of Cuba as an example, the precursor to the Bolivarian Revolution in Venezuela.
The days of celebration will also include film showings, performances of traditional regional music, trova, and Cuban boleros, and will culminate with a presentation by the children's theater company La Colmenita Bolivariana, from Caracas, and a cultural gala on the 13th.