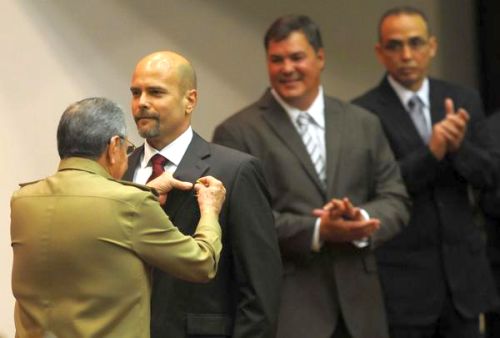 The Cuban Five were awarded the Heroes of the Republic of Cuba Order by Cuba President Raul Castro, in a meeting held February 24th, at Havana's Convention Center.Army General Raul Castro, first secretary of the Central Committee of the Cuban Communist Party (CC of the PCC) and president of the Councils of State and Ministers, chaired the official function to mark the 120th anniversary of the resumption of the island's Independence War, an occasion in which Raul presented the five antiterrorist fighters with the Medal of Hero of the Republic of Cuba.
Cuban heroes Gerardo Hernández, Ramón Labañino, Antonio Guerrero, René González and Fernando González were arrested in Miami on September 12th, 1998 and condemned to severe sentences included a doble life imprisonment.
René and Fernando fully did their time, while Hernández, Labañino and Guerrero were freed on December 17th, last year, as part of the process of re-establishing relations between United States and Cuba.
These medals were given by Parliament to them since a special section on the 29 of December 2001.
The meeting, held at Havana's Convention Center, was also attended by other leaders of the PCC and the Government, as well as relatives of The Five.
 Taken from PL and ACN