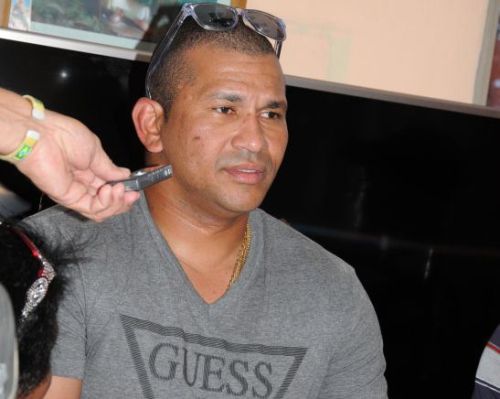 Sancti Spiritus star outfielder Frederich Cepeda was interviewed by Escambray upon his return from the Caribbean Series.
"I already said I didn't play to be the hero. The game just kept placing the moments for Frederich Cepeda, who could have failed but thanks God it all turned out well. I hit well and it resulted into key moments for Cuba to take the win", said the outstanding player already baptised as the hero of San Juan.
He came with an air of God, escorted by an altar that turned him in two days into San Juan Hero.
"It was very nice, I had been informed but what I saw was beyond expectations. I could not picture all the people who gathered there and enjoyed the victory. I'm grateful and I want to dedicate this win to Heriberto Moreno who led Sports in the province since my beginning as an athlete".
What is your opinion on the Caribbean Baseball Series?
Ever since professional baseball irrupted, events have gained in quality. This wasn't the exception.
Isn't it exaggerated to compare it to World Baseball Classics?
Not at all. Many of the players who participated in the series had already gone through triple-A and doble-A in USA, where the level is at its peak; others have been involved in the MLB or expect to be. It's similar to what happens here, there are some excellent athletes who can't make it to the national team but they are still good professionals. Besides, most of the talents in MLB are found in the Caribbean. Nor USA or the Asians were present but the tournament was tough, not only because of the players but for their excellent physical conditions.
What was the turning point for Cuba?
I wouldn't say Cuba showed two different teams. We always played with our hearts and wanted the best to happen, but there were difficult squads like Venezuela, which had come recently from a playoff series, but, well, we managed to win the decisive games.
The team looked tense though…
When we lost, we all set the goal of making it to semis. We knew we couldn't afford losing. Whenever you face a competition the level of tension rises as you move forward, especially in the final matches, but the team was able to handle it. The boys were well prepared and many of us were used to short events like this. When the scored closed 3-4 we knew we had it.
What does an immovable player feel when he is on the bench?
I don't see myself as immovable. I'm just another player. Of course I didn't like being on the bench because I'm used to play all the time and that makes you feel uncomfortable. It had never occurred to me with team Cuba, the NPB is another thing, but I did the best I could on each appearance. I focused to do as it was needed.
For some it was a punishment for the two double plays you were involved with.
Well, to be honest, I didn't even think about it. It was just a baseball game. When you minimize responsibilities, it helps. You picture yourself in the National Series, try to forget all the noisy audience and what's against you. When you fail, all sort of speculations are made, but the important thing is to be ready to fight again.
Do you think you are a veteran?
In Japan when people say you are veteran it's because of your experience. Media say what they want. I'm 34 and I feel young and strong, so I'll keep on playing until my body allows me to.
Your previous visit to Puerto Rico got you out of the national squad.
The past is history. Human beings go through happy and sad times in their lives. My career is filled with beautiful moments like this one; the debt has been paid. For those who made a mistake at the time, I'm here and I'll always be.
With Gilberto Santa Rosa and Puerto Ricans, you played as at home.
Gilberto and I had already shared once, besides, music is my second hobby; it helps you relax and overcome difficulties. After locals lost, they continued to support us. It was awkward when the provocation took place, but the people there behaved properly and repudiated it. We were really into the game and it didn't affect us in any way.
Are you sending a message to the Japanese now that you return?
They are following my performance but I have no debts. In baseball, in sports, you always try to make it right. I'm heading to a new kind of training, for 144 games. It's all too different.
So, after Cartagena and Parma Heroes, how do you like the popular baptism of San Juan Hero?
I already said I didn't play to be the hero. The game just kept placing the moments for Frederich Cepeda, who could have failed but thanks God it all turned out well. I hit well and it resulted into key moments for Cuba to take the win. Patience at home plate is of the essence, as my dad says, you should try not to anticipate emotions. I can assure the true hero was the team.