Inspired by her memories Winston Churchill's granddaughter, Celia Sandys, paid a recent visit to Arroyo Blanco, a town located in central Cuba.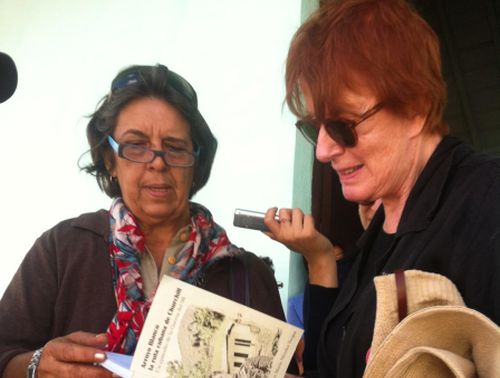 After travelling onboard a cruiser for few days, she arrived in Cuba and undertook a journey over the route followed by her grandfather back in 1895. She was thus welcomed at Arroyo Blanco's Communal House, the place where according to local history, Churchill stayed when he was only 20 years old.
By Arturo Delgado Pruna
But his stay in that house was not the most important thing, but the words he left written in some memories locals seemed to know very well due to the clear descriptions and the illustrative map also included. So, it looked as if all had been already said, until Lourdes Méndez Vargas came into the picture. Her ancestors were members of an independent family that opposed Spanish colonialism in XIX in this same location.
Former Cuban diplomat Méndez Vargas, who had no experience as professional historian whatsoever, presented the results of her preliminary investigation at the International Seminar "Cuba in the Anglo-Hispanic interests. Reflections on the 250 anniversary of the siege, defense and taking over of Havana", held at San Gerónimo University College, in 2012. After that, and while she was working on her book, she shared brief e-mails with Celia Sandys to let her know about what she was doing.
So, although it was not planned, the encounter between the two women was inevitable for historic and personal reasons. If Sandys returned to Cuba, it was not only for tourism, but to concatenate what her grandfather missed to include in his memories with what is revealed by Lourdes in her book Arroyo Blanco, la ruta cubana de Churchill (Arroyo Blanco, the Cuban route of Churchill), which was published by Ediciones Luminaria, in Sancti Spiritus.
The meeting between Lourdes Méndez  and Celia Sandys took place in the porch of the old Communal House, where Lourdes gave Celia one of her books as a present.