Numerous shows of US citizens support to the decision of the Presidents of Cuba and the United States to restore diplomatic relations between the two nations have been published in The New York Times.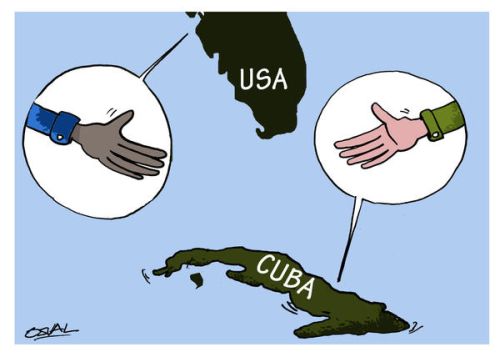 Obama to Announce Measures over Cuba-US  Relations 
In a letter sent yesterday from Arlington, Virginia, and featured in the Friday edition of the New York newspaper, William Beck, a retired Navy special operations officer, showed his support for the decision made by President Barack Obama.
Finally (Obama) had the good sense and the courage to do the right thing, to end the absurdity of our relationship with Cuba' wrote Beck.
'Cuba is not an enemy of the United States. Both sides made mistakes during the Cold War, but we have to look to the future and not dwell on the past. Cuba has historically been part of the regional American family, but he was ostracized. It is time to behave like a family.'
Paul Gilfillan, from Bethany, Connecticut, supported the decision to resume diplomatic ties between the two countries, despite those opposed to the measures taken.
'Senator Marco Rubio and other detractors may preach pessimism for the decision of the president (Obama), but Cubans will soon experience more freedom and economic opportunity' said Gilfillan.
For Errol C. Isenberg, Sunrise, Florida, the decision to stop the old dispute will benefit the people of both nations, and according to comments in his letter, 'most Cubans I know, both in Cuba and the United States, welcome the restoration of diplomatic relations between our two countries.
'To the critics of this movement, I would say that the policy of isolating Cuba through trade embargo has been detrimental to the Cuban people,' Isenberg said.
Bilsel Alisbah, from Hilton Head, South Carolina, also wrote to the Times acknowledging that Barack Obama is acting like a president.
'Changing the policy towards Cuba, which has proved a total failure from long ago. I hope that it proves to be a first step in breaking the dominance of small but powerful groups in our foreign policy,' said Alisbah. 'Perhaps if he had shown such courage before, he would have been a more popular president'.