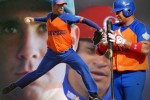 Six games are still pending to define the final positions of the best eight teams of the 53rd Cuban Baseball National Series, and the order to choose the reinforcements.
Industriales and Villa Clara will celebrate three unfinished encounters vs. Las Tunas, Granma, Mayabeque, Matanzas and Pinar del Rio to complete the 45 game-schedule.
So far, the leaders of the general standings are Havana's Blue Lions (27-15), followed by Leopards or Orangemen (26-16), Matanzas Crocodiles (27-17), Isla de la Juventud Pirates (27-18), Pinar del Rio Wolves (26-18), Holguin Puppies (25-20), Santiago de Cuba Wasps (24-21) and Artemisa Hunters (24-21).
Upcoming January 9th is the date for the best teams' managers to select the appropriate men to complete their staff. Some squads like Artemisa, Pinar del Rio and Villa Clara have fewer worries regarding the pitching area, while others such as Industriales and Matanzas show off in their batting.
As for Sancti Spiritus baseball club, despite its recent debacle, some names begin to be heard as possible candidates. That is the case of internationals Frederich Cepeda, Eriel Sanchez and Ismel Jimenez.
However, it is worth naming some other players such as Yunier Mendoza, Angel Peña, Orlando Acebey, Robersy Ramos and young Carlos Sierra and Yunior Ibarra.
Here are the statistics of those with possibilities to be chosen:
Team Cuba Players
Frederich Cepeda (outfielder)
Ave 252 (151-38), OBP 438, R 22, RBI 18
Eriel Sanchez (catcher)
Ofensive: Ave 285 (91-26), OBP 362, R 6, RBI 10
Defense: ave 989 (1 error in 95 total lances), 5 caught stealing in 9 attempts.
Ismel Jimenez (starter)
IP: 70. 0, W 2, L 6, ERA 2. 44, WHIP 1.17, ave 256, 38 SO, 17 walks.
The Invisible One
Yunier Mendoza Alfonso (first baseman)
Ofensive: ave 320 (97-31), OBP 358, R 12, RBI 13
Defense: ave 988 (3 errors in 240 total lances)
The Unseen
Angel Peña (starter):
IP: 50.2, W 2, L 1, ERA 1.95, WHIP 1. 39, ave 280, 23 SO, 18 walks.
Orlando Acebey (infield utility)
Ofensive: ave 313 (150-47), OBP 402, R 13, RBI 19
Defense: ave 931 (10 errors in 145 total lances)
Robersy Ramos (outfielder)
Ofensive: ave 281 (153-43), OBP 366, R16, 6 stolen bases in 13 attempts
Defense: ave 963 (3 errores in 81 total lances)
The Young
Yunior Ibarra (catcher)
Defense: ave 992 (1 error in 124 total lances), 12 CS in 20 attempts
Carlos Sierra: (reliever)
IP: 22.0, W 2, L 2, S 4, ERA 4. 09, WHIP 1. 68, 22 SO, 17 Walks, ave 241