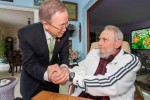 Fidel Castro Ruz, received the Secretary General of the United Nations, Ban Ki -moon, who is attending as a guest the Second Summit of the Community of Latin American and Caribbean, CELAC.
At the meeting yesterday afternoon they addressed various issues that strongly influence regional conflicts that concern and affect different people, Granma newspaper reported.
Fidel and Ban Ki -moon considered as a priority the work for the sustainable development and to contribute to the reduction of the main causes of climate change and its devastating effects.
They agreed on the imperative of fighting with concrete measures for nuclear disarmament and against the dangers to humanity that can lead to a war of incalculable proportions.
During the meeting they argued the need for a world of peace and stressed the responsibility that political leaders have to reduce extreme poverty, hunger, poor health, inequality and promote economic and social development.
The distinguished visitor expressed his satisfaction with his stay in Cuba, praised the changes that are taking place in the Cuban economy and society and, in particular, recognized the results of our country's health system, education and other essential indicators of social development, and their solidarity with other nations, despite the limitations and difficulties.
Ban Ki -moon stressed the fulfilment by the Cuban Government of the Millennium Development Goals and its ongoing collaboration with the United Nations System.
Fidel Receives Prime Minister of Saint Lucia
Fidel Castro Ruz, historical leader of the Revolution, received on Tuesday night the Honourable Dr. Kenny Davis Anthony, Prime Minister of St. Lucia, who is attending the second Summit of CELAC.
According to Granma newspaper, the fraternal meeting was an expression of the historical relations between Cuba and Santa Lucia, characterized by an unchanging spirit of cooperation and solidarity between our governments and peoples. Other important issues on the international agenda were also addressed in the dialogue.
Kenny Anthony expressed his eternal gratitude to Cuba for the support in the training of doctors, nurses, engineers and other professionals and the contribution to the social development of the sister Caribbean country.
The exchange took place in a friendly atmosphere and sincere friendship.