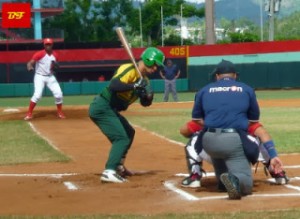 Reinforcements apart, teams of Pinar del Rio and Santiago de Cuba had enough history and bravery to get to semi-finals and fight for the championship of the present tourney.
However, since the 52nd version of the national classics, the so-called "foreigners" play an important role on their new squads moving on till the end, and these year's have turned both squads into the positive and negative sides of the current season.
Teams Reinforced for Second Phase in Cuban Baseball
Thus, January 9th marked a turning point in the current season as managers, rookies and experienced, battled their own war to choose the best men to better up their troops and here is where Alfonso Urquiola and Luis Danilo Larduet changed their destinies.
Wolves, strong enough to be considered a tough contender, arose as a "monster" who has won all the games in the second phase, with decisive performances of its five reinforcements. On the other hand, Wasps have lost five encounters in a row, with very discrete support from their outsiders (the exception being slugger Alfredo Despaigne).
For many specialists and fans, Santiago de Cuba's manager should have selected a brilliant starter in the first round to reinforce his staff (openers work for a frightening 8.47 ERA and their rivals average 324). He seemed also to need a defensive catcher (Andres Reyna has been stolen seven bases in eight attempts), and another offensive player other than Despaigne to strengthen up the line-up.
With Yunier Mendoza recently injured and out of the team, Dary Bartolome (ave 297, R 14, RBI 24) or Robert Luis Delgado (ave 357, R 29, RBI 23) should have entered as their numbers are encouraging enough.
Larduet needs also to pay attention to Yander Guevara and Alberto Soto as Angel Peña (50.2 innings, ERA 1.95, 23 SO, 17 walks) or Oriolbis Cobas (51.2 innings, ERA 2.79, ave 226) may certainly honor in a better way their excellent performances during the qualifying stage.
As things go, the team from the Western province of Pinar del Rio may easily walk till semis and be a serious rival for the title of the current series while Santiago needs to take urgent actions to erase some of the seven games difference in respect to the leaders in the standings, to gain the respect they deserve.