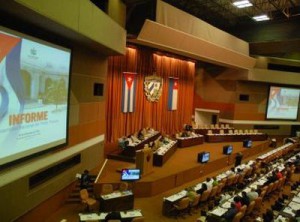 Control and supervision actions carried out in different areas of Cuban economy during the first half of the year will be on the spotlight of the Cuban Parliament's ten commissions in upcoming sessions Wednesday and Thursday at Havana's Conventions Palace.
According to the program, the Agricultural and Food Commission will focus on inefficiencies detected in efforts to replace costly imports of milk and beans and the recently concluded sugar harvest, as well as resources for the industry among other aspects.
Parliamentarians in charge of health and sports will look at the performance of elderly homes, the quality of education, the attention to teachers and professors, and the results of entry exams for higher education, as well as other issues relevant to the sports industry.
The national energy program, the sale of construction materials, the distribution of rationed food, the quality of thoroughfares, investment projects in the transport sector, the quality tourist services, the telephone investment program and the performance of the most recently created cooperatives, will be at the center of discussions of the Commission attending to services.
Other important issues to be addressed by the commissions include economic aspects, the industry, constructions, investment projects, recycling policies, the use of renewable energy sources, the  rights of women, the recent salary increase for health workers and its impact, the epidemiological situation in the country, as well as the collaboration with
Latin American and Caribbean integration blocs.