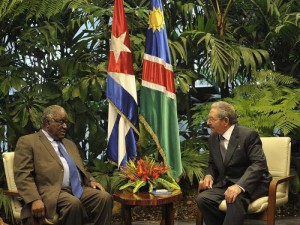 Army General Raul Castro, president of the Councils of State and Ministers, received Dr. Hifikepunye Pohamba, president of the Republic of Namibia, during his official visit to the island.
---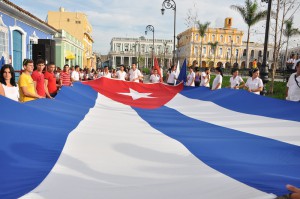 Sancti Spiritus students condemned terrorist actions against Cuba, and demanded the release of Antonio, Ramón, and Gerardo, who are still held in US prisons.
---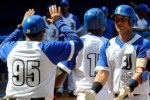 Industriales Blue Lions are the leaders of the 54th Cuban Baseball Season (SNB, for its Spanish acronym) with a 6-0 record and sweeps of Mayabeque and Santiago de Cuba.
---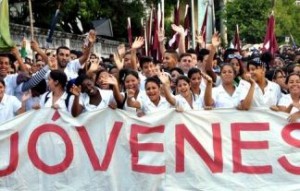 Cuban youth will take to the streets again this Tuesday to demand justice for the victims of terrorism, and freedom for Gerardo Hernández, Ramón Labañino and Antonio Guerrero, who are still kept in US prisons for fighting terrorist acts. "I'm Cuba", will be the proclamation of the young marchers all over the island, who will […]
---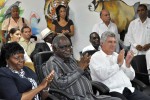 President Hifikepunye Pohamba was invited to tour around Havana's National Zoo, accompanied by Cuba's First Vice-president Miguel Diaz Canel.
---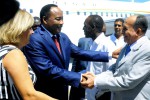 Niger President Issoufou Mahamadou arrived Sunday on an official visit to Cuba aimed at strengthening bilateral relations.
---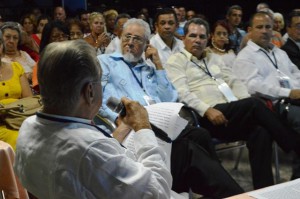 The XXV International Congress of Orthopedics and Traumatology closed this Saturday, in Trinidad, Sancti Spiritus, with confirmation of the steps to modernize Cuba orthopedic components. The initiative is going to refinement, modernity in orthopedics and to turn Cuba into continental leader in the coming years, stated Dr. Rodrigo Alvarez Cambras, president of the Cuban Society […]
---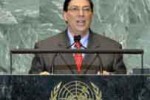 Bruno Rodriguez said that the UN Security Council should be rebuilt
---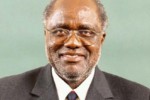 The presidents of Namibia and Equatorial Guinea, Hifikepunye Pohamba and Obiang Nguema Mbasogo, are paying official visits to Cuba since Saturday, Granma newspaper reported.
---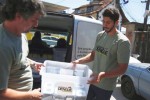 Brazilian researchers released some 10,000 mosquitoes in the city of Rio de Janeiro to fight the deadly dengue fever in the country.
---