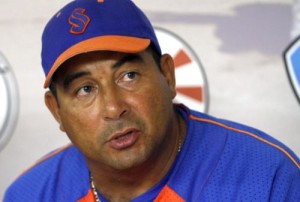 Yovani Aragon ensures he is willing to go on as coach in Sancti Spiritus.
Accepting he lost a battle but not a war, Yovani Aragon assumes his first experience as manager and ensures he is willing to go on.
Cuba's 52nd Baseball Season has come to an end. The orange color of its champion "touched" Sancti Spiritus for its geographic proximity and for the historic bonds with glorious team Azucareros; or maybe because it was just about to take revenge, in some odd way, from its victimizer.
However, the shared joy has not shaken all nightmares from Sancti Spiritus's fans minds, still wandering in that fateful inning in which their dream evaporated. Neither the air from Havana nor time has helped Yovani Aragon to forget it.
You could say that from the six times he has been through the same agony as hurler he is used to it: "I still don't believe it", says Aragon and his voice describes the bewilderment.  He accepts, though, to throw this game "without warming up" in an attempt to get out from the moment in which his blood pressure raised.
The team did a good job, we can't assess the work of a whole year for a bad inning; even if we lost we ended up 4th among 16 squads; hurlers couldn't handle it but the boys gave it all, and I think they gave more this year.
Resignation or conformity?
I don't think is conformity. From the technical point of view you can say we played ok; we lost in the 7th game. Anyway we didn't achieve our main goal: to fight for the title.
But this is the 11th year with the same purpose…
Many teams have been there, 18 years passed for Villa Clara…
34 have passed for Sancti Spiritus…
Yes, but we've been qualifying for 11 years; Ciego took a lot of time until 2011's championship. We were really close this time; I haven't been able to take the way we lost from my head, but we need to face it and move on.
Did you know how this people feel with the defeat?
Yes, I did. Many people called me to offer their support, but I know fans were really sad and dissatisfied; I want to thank them for backing us up, mainly in the last two games, which encouraged our players a lot. It was almost impossible to lose when we were winning 5-0, but then it was up to the athletes. No matter how much you motivate them, they have to do their jobs, especially those with more experience.
It is somehow ironic that a manager who was an excellent pitcher lost because of their hurlers. Let's go over some questionable issues: Sierra out of the box
Yaisel Sierra threw a bit more in the first game and his back ended up hurting. He was treated and he even used an elastic band. We asked him a lot when we needed to take Norge Luis Ruiz out; I went to the box to encourage him, I asked him to throw one more inning and he told me: "I just can't bear it any longer", so we didn't want to risk him and we brought Omar Guardarramas who apparently got affected psychologically and couldn't handle it. We placed Peña taking his experience into account.
A negative experience in playoffs, that is why the decision was so surprising.
We lessened his responsibility as starter, so he could help in relieving.
Don't you think the best choice was to walk Lazaro Herrera?
It was the tie run and we didn't want to take him to first base. We advised Angel Peña to give the batter some bad throws as Victor Victor, the weakest in Matanzas, was next, but they both hit the first pitch; I don't know what went wrong with Peña and the rest who couldn't get one out and avoid eight runs.
Speaking about odds, why not using Noelvis Hernandez, who is a better bet in playoffs?
That's true; we started with Ismel Jimenez and Norge who were a lot better during the second phase. Noelvis' last outings were not good, and then the rain also allowed using our best hurlers more times. However, despite his age, he had a great performance in Matanzas and in Sancti Spiritus, and I think he must be congratulated for that.
How fast does the mind of a manager work in this kind of situation?
You need to pull yourself together…When I was a player I hated to do it wrong, so it's not easy to see the work of a whole year wasted in one inning without being able to throw yourself. It's just hard.
Which were your mistakes?
In some strategies: letting a hurler too much time on the box, not bunting when needed…you have only a few seconds to decide a play, and it's really complicated. We respected everyone's criteria; people want it me to change the roster but in the end things turned out well for the offense.
Do you think you were somehow conservative in looking for just one game in Matanzas?
We went there with the idea of winning. We always thought of good outings by Ismel and Norge; people told us: "why Ismel vs. Joel Suarez?", well, he is our ace, he had the exact days; the problem in Matanzas was the batting.
Dou you give up on the Roosters?
We have our moments; it's true that I ended up hurt, but so far, I'm Roosters' manager. If our province has another choice, we'll respect it. Right now I'm in Havana leading the training of the team that will compete in the Netherlands, the Western Squad winner of the All-Star game.
Will you dare changing what must be changed?
It isn't about daring; I don't think I need to become Superman. In baseball, some begin and some end, there's no dogmatic athlete in Sancti Spiritus. Some must be renovated; we'll try not to make mistakes. Pitching had a fateful inning but it isn't the only one to blame because the offense went wrong in Matanzas. We need to continue working with the youth, every player needs to make a self-assessment, and trainers must never give up.
Dou you think we can get rid of the eighth inning trauma?
Yes, I think we can. I thank our people again; if they need to comment because they have their reasons, so be it, but let them know we did our best, even if we didn't accomplish our main goal. I ask them to continue supporting us so we can all rejoice of fighting for the title again.