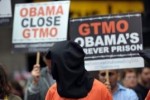 Colonel Morris Davis, former Chief Prosecutor for the controversial American prison camp at Guantanamo, described as unpatriotic the fact that Washington keeps the prison opened and urged President Barack Obama to fulfil his promise.
"We say we are the country of freedom and courage, we have been living like cowards and prisoners for 11 years," said the prosecutor to The Huffington Post website, while criticized the government for having 166 foreign criminal imprisoned without prosecuting them.
In 2002, the United States opened the prison in Guantanamo Bay "in an occupied territory of Cuba" to confine there any person who is deemed a terrorist suspect.
Davis also questioned Obama for not keeping his promise of closing the prison and transfer the prisoners to their home countries.
Between September 2005 and October 2008, the lawyer was the chief prosecutor in court proceedings against detainees in the war waged by the United States against terrorism.
Now he is promoting a campaign to collect signatures to close the prison and already has the support of 100.000 individuals.