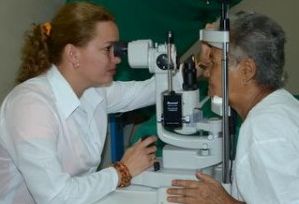 The specialized and multidisciplinary healthcare provided to retinitis pigmentosa patients in Sancti Spiritus, central Cuba, has made it possible to reduce the development of this chronic degenerative disease.
The local Provincial Center of Retinitis Pigmentosa, with more than 15 years of experience in the study and mass screening of the illness, provides services to patients and their relatives, since this disease is considered a hereditary one.
According to Dr. Yenisleidys Díaz Rodríguez-Gallo, first-degree specialist in ophthalmology, family doctors play an important role in the early detection of the pathology, which can affect even children under 10. During the last two years, more than 10 persons between 14 and 25 years of age, have been diagnosed here as suffering from  retinitis pigmentosa, added the doctor.
Cuba features a national program for the treatment of retinitis pigmentosa, which is supported by a unique network allowing adequate health care assistance everywhere in the island.