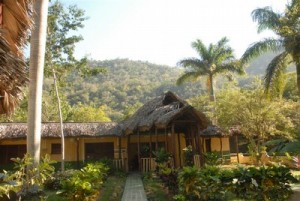 Sancti Spiritus fights deforestation in remote areas.
Seed bombing is one of the procedures used in Sancti Spiritus, central Cuba, to prevent deforestation in remote areas such as the Guamuhaya mountain range.
Seeds are scattered around the whole area, particularly on the Lomas de Banao (Banao hills) ecological reserve.
Oliver Valle Hernández, in charge of the preservation of local flora in that territory, told Escambray about the different areas bombed, and about the kind of seeds spread, which include palm tree nuts.
Over 850 different plants are grown in the reserve, 170 of them considered endemic to Cuba. Some others, such as the Satorella banoensi, are said to be native of the Guamuhaya mountains. They currently monitor the behaviour of six endangered plant species, some of which are unable to be renewed through natural regeneration, added the expert.
Fighting soil erosion, promoting the sustainable use of natural resources, and strengthening surveillance in the area, are some of the guidelines adopted to save local biotic environment.