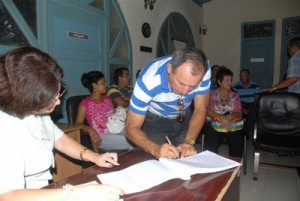 The first non-agricultural cooperative was created on an experimental basis in Sancti Spiritus, central Cuba, within the context of the progressive implementation of the Party and the Revolution's guidelines. It was thus informed by sources of the Ministry of Justice in the territory.
Construcciones Lapinet Company was formalized through public deed at the local International Legal Consultancy, once its creation was adopted by the Council of Ministers last May.
According to the new economic organization's leadership, the group will be first engaged in the rehabilitation of multiple family homes in the capital city. In the future, they plan to build dwellings and facilities for touristic purposes.
In order to foster the updating of the so-called Cuban social economic model, five new legislations were passed last December to back the gradual creation of cooperatives for non-agricultural purposes.
According to Granma daily, over 200 cooperatives are expected to be soon started in the island on areas such as transport, gastronomy, fishing, domestic and personal services, raw material recycling, and construction services.