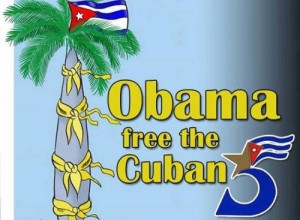 The fifth day of each month, the White House's electronic mail receives lots of messages from all over the world demanding justice, and the voices of the so-called Yayabo city are no exception.
This November 5th, Sancti Spiritus's Casa de la Guayabera hosted the monthly encounter organized by the members of the Elderly College's Committee of Mothers, and the University of Medical Sciences (UCM), to support the Cuban Five cause.
As part of the Network of Universities in Solidarity with the Five Heroes, Sancti Spiritus university grandparents joined medical students to demand the immediate liberation of the Cuban heroes.
"René welcomed the idea we want to extend to the rest of the country", said Norma Garcia Machado, president of the elderly group.  She also called the US people to search for the truth on the Five case, which has been distorted by the media in order to prevent international support.
According to the UCM sources, a bicycle tour has been scheduled for this afternoon, with the participation of 500 students who will express their support for the Cuban Five cause, and will also welcome the upcoming half-millennium celebration of the city.