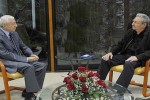 Cuban President Raul Castro met on Saturday with the General Secretary of the Democratic Front for the Liberation of Palestine, Najef Hawatmeh.  The Palestinian leader paid an official visit to the island at the invitation of the Cuban Communist Party.
During the meeting, Raul Castro reiterated Cuba's solidarity with the Palestinian cause. Meanwhile, Hawatmeth addressed the current situation in the Middle East and expressed his appreciation for the support given by Cuba and Latin America to Palestine's observer status at the United Nations, which has represented the most important international achievement in the history of his people.
Attending the meeting was the representative of the Palestinian organization in Havana Walid Abu Khorj as well as Jose Ramon Balaguer, who is a member of Cuba's Communist Party Central Committee and chief of the party's International Relations Department.