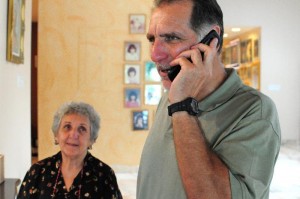 Interview with  Rene Gonzalez's mother, Irma Sehwerert.
During an interview with Escambray, Rene Gonzalez's mother, Irma Sehwerert, denounced media silence on the case of the Cuban Five when saying that "major media don't stand for just causes; they are monopoly of rich people to preserve their system". I talked to her this time on the phone. She apologized for being late, but my fifteen minutes wait meant nothing as compared to the almost 15 years she had to wait for the definitive return of her son, Rene.
"I gave birth to Rene when I was very young. We were living in Chicago at the moment", she said. It was more than 56 years ago. Then she gave birth to Roberto —who passed away last June — and later on, to Livan.
Did judge Joan Lenard's decision to allow Rene's stay in Cuba took you by surprise?
It was a tremendous surprise. From the legal point of view, we have been faced with many failures, and disappointments. We didn't want to harbour illusions. We didn't expect that she would accept Rene's request to modify his probation.
This is a step forward, but we cannot stop until the five of them are back. We will keep on calling then as the Five; they are not four now, that's the way I see it. For us, they are only one man. I don´t see any difference at all among them. Rene will be really free when his brothers are back in Cuba.
After more than 20 years away from Cuba, you will finally enjoy the company of your son next Mothers' Day.
During the time he was in jail, if I remember rightly, only two of my visits were made on Mothers' Day. But now it will be a completely different day, mostly because of him. We are so glad that he is back to his family…
Your son Roberto's dream of having his brother back home has been fulfilled. Unfortunately, he is not physically present. How did he keep you informed about the judicial process?
It's very hard for me to talk about it. I know he would be very happy, if he were here. They would both be fighting together, as they always did. But this is life, and we have to go on.
Roberto was always timely in this battle, and people used to say that he was unique when explaining facts about the case. He clarified my doubts in a very simple manner, but he is not present any more.
You had the privilege of being the first mother of the Five to kiss her son in Cuba. Did you lay down your arms in the epic battle for the return of Gerardo, Ramon, Antonio, and Fernando?
No way! I feel myself more committed to the cause now. For me, Rene won't be actually back until Gerardo returns. We always imagined that the five of them would return together. We dreamt about that moment as a huge thing, as a popular celebration. The fact that Rene is here will be very important for the cause.
Rene's family has grown larger. He's now a grandparent himself. How do they share his time now?
He is mad about his grandson. The baby is very healthy. During these days, I left space to Olguita, because we didn't know he would stay. As you know, she was denied visum to go and visit him, thus they were apart for many years. Now that he is back for good, we must coordinate how to organize family meetings as we used to.
To undermine media silence wall, there is a National Committee for the Freedom of the Five, and a representation of the International Committee in the United States. How do you evaluate the actions of those solidarity friends within the American society?
Nothing compares to their actions. Those people have disinterestedly committed themselves to the cause of the Five, and we are proud about that. Thanks to them, we have made an achievement. Thanks to them, the Five will be dedicated a week in Washington at the end of May. Several personalities —Angela Davis, Danny Glover, Dolores Huerta, Ignacio Ramonet— will be present. That is how we must proceed to let US people know about the Cuban Five case. It may be that now that Rene is back, media will do something.
Rene also lost his father. Any similarity between the two of them?
They shared the same principles. Candido was a man of incredible principles. He was honest, hardworking, unselfish, noble. Rene is very much like his father.
During all these years, very little has been said about your third son, Livan. How has he felt about his half brother's story?
He doesn't like to be referred to very much. He's a very simple person, who prefers not to stand out. He is a telecommunication engineer, and works at Nestle Company. When he was 2, I took him with me to work in the countryside. In fact, I had to do the same with the three of them very frequently. I had no relative to help me with them in Cuba. My mother lived in the United States; I returned repatriated (1961). In order to do Revolution, I had to do it with them. I'm no exception in Cuba.
Homeland is more than everything in life, and we cannot sit down at home to see life pass by. The Revolution has cost a lot; there are those who died in Angola. In the case of the Five, it was us, the mothers, who had to do something. It might have been the case of other mothers, and all of them would have done the same we did. There is no doubt that the Cuban Five are heroes, but they are no exception here. Our country is full of heroism, and keep trying to improve society is what we must do right now. As Rene said in an interview, working is the task we have ahead.
How is an average day in Irma's life?
I get up at 5:30, and go to bed at 12:00, or later, every day. Time is not enough to take care of the housework, the Party, the activities for the Five, and the socio-cultural project we have in the community.
How much afraid were you about Rene living in Florida, next to the same terrorist organizations he infiltrated?
I was much more concerned about him when he was on probation, than when he was in jail. It was hard for me to get to sleep at night. I was afraid that someone discovered the place where he was staying. Florida is full of vipers. They —the anti-Cuban people— often made statements; we could read them in the Herald. Their hatred is huge, frightening. I lived with constant anxiety, but fortunately, Rene is here.
(Translated by Escambray)