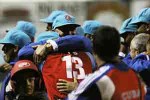 Cuba's Ciego de Avila Tigers kept undefeated at the World Baseball Challenge, in Canada, after edging Japan's JX-Eneos of Yokohama 8-7 on Monday.
According to a report by PL news agency from Ottawa, the Cuban team reached the ninth inning losing 4-7 and when it all seamed the island would undergo a defeat, it all turned around with the Cubans scoring four runs, following a homerun by Yoelvis Fiss.
The victory was garnered by right-handed pitcher Yader Rabi, the third to lead the Cubans during the game, while Japanese Motoshi Ohiro left with the defeat.
The Cuban team now accumulates five victories at the World Baseball Challenge and it is undefeated at the meet underway at the Citizen Field, in the Canadian city of Prince George.
The Ciego de Avila Tigers will face Taiwan, which is on the second position with four victories and one defeat. The Taiwanese team has only lost to Cuba 3-10.
According to the board of positions, Japan comes third after Cuba and Taiwan and the list continues with the United States and Canada.