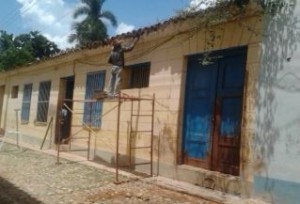 Restoration and preservation actions are boosted these days in the Cuban ancient village of Trinidad, also known as the city museum of the Caribbean Sea, on occasion of the 500th anniversary of its foundation.
The program includes refurbishment on multi-family buildings in Julio Antonio Mella neighbourhood, Armando Mestre district, and Manuel Ascunce settlement, in the local rural area of Algarrobo.
Likewise, repairs will be also undertaken on the roofs of houses in the Valley of the Sugar Mills, so as to preserve the architectural colonial distinctive feature of this territory.
Some 200 buildings on Anastasio Cardenas Street will be painted as well, which will contribute to the beautification of the town.
(Taken from Radio Trinidad, and translated by Escambray)