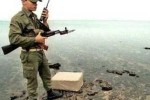 Cuban National Police has carried out 15 investigations since 2011, which allowed thwarting attempts to smuggle synthetic drugs into the country.
According to Granma newspaper, as a result of these actions five drug traffickers were arrested and a similar number of individuals were detected as involved in drug trafficking operations for Cuba from several countries.
In the cases that were subject of investigation in Cuba, the central anti-crime lab with the Interior Ministry identified 11 different formulas of the so-called synthetic cannabinoids, described as designer drug, plus 25 in their commercial presentation, in bags from one to 10 grams of the drug, which has also been hidden in bottles of food supplements and condiments.
In 2012, a total 4.3 kilograms of cannabinoids were confiscated in the country, most of it at the airport. Drug traffickers usually make their smuggling attempts through parcel post agencies based in the United States and through people who visit Cuba or travel to that country on family interests.
Police authorities have alerted their foreign counterparts about the presence in several countries of people who are involved in attempts to introduce in Cuba chemically manipulated drugs, which pose serious danger to human health.
Along with all this, reads the article in Granma newspaper, following  a  call issued in 2012 by the International Narcotics Control Board, Cuba has shared its experience in the fight on this type of drug with the services of 26 countries and the Interpol General Secretariat.
The cannabinoids are designer drugs, which are synthesized in specialized labs to obtain marihuana, but with an effect that is between 20 and 100 times stronger than the traditional drug.
These drugs are usually hidden in attractive incense bags in order to legally commercialize them and sue them in aromatherapy sessions, yoga or meditation, reads the article.