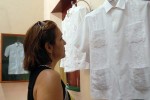 The Cuban textile industry specializing in the production of the traditional Cuban shirt, guayabera, will for the first time feature a collection of guayaberas for children, at Havana International Fair—FIHAV 2013,  scheduled to be held from November 3 to 9, 2013.
Marcial Dominguez, trade expert, said the Cuban textile industry annually produces about 40,000 guayabera shirts for males and females of all ages.
The Cuban textile industry plant, located in the capital of the country, is the only production center creating the traditional shirts, serving domestic demand, as well as export markets like Venezuela, which is the main buyer of these shirts, Angola, India and Tanzania.
The FIHAV 2013 is the 31st edition of the annual trade fair held in Havana, and the event would feature all sectors of the Cuban economy coming together for a comprehensive trade show. The fair aims at providing an opportunity to exhibitors and visitors to make business contacts, share knowledge and get updated on new technological developments in various sectors.
According to organizers, this year's fair would have more than 300 domestic exhibitors from various sectors, including textile and apparel, showcasing their products, as well as more than 150,000 visitors from over 60 countries including major foreign business delegations.
Ortega stressed the importance of FIHAV 2013 for his company, due to the potential of such event for the realization of business with firms and Cuban and foreign companies of tourism and gastronomic.