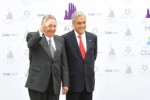 President of Chile, Sebastián Piñera, called today to create a new strategic partnership between the EU and Latin America and the Caribbean, based on cooperation and promoting bilateral investments.
During the inauguration of the First Summit of Heads of State and Government of the Community of Latin American and Caribbean States (CELAC) and the European Union (EU), Piñera called for strengthening regional ties in a more horizontal and less vertical way to evolve well from assistentialist models towards the real cooperation.
The president asked to overcome the differences and promote investment with greater social and environmental quality.
He also emphasized the importance of the summit at a time when Europe is experiencing an economic crisis and Latin America has gained prominence in exports of goods to the continent, an increase of 13 percent per year.
I considered that the countries of the area are experiencing a revival of their economy and democracy, they learn from their past mistakes and strengthen shared values with the EU.
We have in Latin America and the Caribbean everything to defeat poverty and achieve development, we have the resources, no wars and there is the capacity to meet the challenges, he stated.
"During the next two days we will have opportunity to join forces to build a better future for our peoples," he said.
After the opening the Heads of State and Government posed for the official photo and retreated to the rooms where discussions will continue behind closed doors.