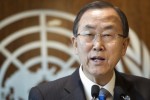 Ban Ki-moon backs peaceful solution to the crisis in Syria.
UN Secretary General Ban Ki-moon called for a peaceful solution to the crisis in Syria.
We are of the opinion that the situation should be resolved peacefully through dialogue, the UN chief reiterated in statements made in Vienna and distributed at the world body's headquarters in New York.
He said the team of UN experts studying the allegations of the use of chemical weapons in Syria will end its work tomorrow, and leave Damascus on Saturday to report the results of its inquiry.
Ban Ki-moon confirmed he spoke yesterday with U.S. President Barack Obama, on the way the world, particularly the United States, can jointly work to expedite the investigation process carried out in Syria.
Washington warned it would attack with missile against Syrian government targets, which is the responsible, showing no evidence, for the use of chemical weapons last week in the outskirts of Damascus.
The top UN chief requested Obama to allow the completion of the expert group's task, and pledged to share information and the analysis of the samples collected during the investigation.
We have to give opportunity to the diplomacy and peace, Ban said to reaffirm his commitment to the principle of resolve differences peacefully.
At the same time, he reaffirmed that the use of chemical weapons is a crime against humanity, regardless of whom use them, or for what reason or circumstance, and those responsible should be reported on to justice.