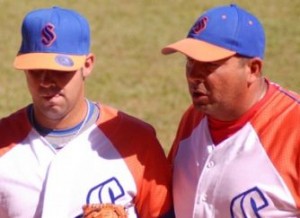 Roosters' manager satisfied for having his team among the best four.  Surveys on the streets confirm that aura of skepticism that usually rounds the prelude of the baseball postseason in Cuba. For 10 years fans have been left with the desire to obtain the title. For seven seasons, Sancti Spiritus has not reached a medal (bronze was the last) and its instability along with its "not gaining the key game" mark the players as much as the bridge that bears their uniform.
With all this on his back, and a difficult rival to beat such as Matanzas, Yovani Aragon faces his own war: changing history and proving expectations and predictions wrong from Sunday afternoon on.
"Being among the best four is a meritable deed for a manager, especially for me because this is my first year. If I were to use a word to define it, I would say: unity".
You had a bad last third, isn't it a disturbing presage?
We went through a hard time; all teams had it, that's why the last two qualified squads had to fight till the end. We had several absences due to personal problems, fatigue, injuries and diseases. The replacements we used did not solve the situation but they were all willing to help the team. Relievers did not have a good performance either, and the so-called team work did not quite function. Against Industriales we turn into the real Sancti Spiritus again.
Don't you think the team lack motivation, some "fuel"?
If by some "fuel" you mean the training I'm not concerned. One day we lost, the other we played a terrible game. It wasn't that the squad lacked motivation; I just think they relaxed when they got the qualification, and that must certainly be criticized. We talked to them to explain the need of ending with high spirits and proving fans we could make it.
Some interpret it as the setoff of playoff…
I don't think so. The players are really focused, with great moods. We are quiet. There aren't ghosts or anything like that. We are taking it as another game. We are not forced to win semis. We just have to fight in the field, to prove that the team will battle till the out 27.
To what extent are you convinced that the team will translate your words into actions?
We've proven that throughout the season. We set some goals and we met them. When never thought of being placed first, but of remaining among the best eight; in the second phase, we went for the best four; right now we are going for the championship, but we can't bet on us being champions already; we have to go one step at a time.
How is the health of Roosters?
Yulieski treated his shoulder. He is no totally recovered but he got much better and he is thinking of fighting hard; Lourdes Y. continues with the haematoma on his hip and after the season he would probably undergo surgery, however he will play; Cepeda has gone to the field during the whole second phase with lymphangitis; Acebey is recuperating from a sprain, but they are all going to battle.
What about the pitching area? Aren't you worried for Ismel? Who are going to throw?
Hurlers worsened their great numbers, they finished really uncontrolled. With the teams reinforced, if you slip, the adversary takes advantage of that; we've worked on it and everything must be ok for playoffs. Starters will be Ismel Jimenez, Norge Luis Ruiz and Angel Peña, and the closers are Yaisel Sierra and Omar Guardarrama. The rest will work in function of our needs.
Some say you were crazy when you chose a rookie to reinforce your squad
We thought of Norge Luis to help Guardarrama, but when Pedroso died, we decided to make him a starter and he has done it greatly. Norge has become one of the best hurlers in Cuba. We are very happy with all of our "foreigners"; we've been a family.
Will you change your key offensive men if they are not efficient?
This is a short series, if an athlete doesn't start well he is not likely to recover on time. We are willing to change them if the team considers it; there's no fear. This isn't about Yulieski, or Cepeda, or Eriel or Yovani Aragon; this is about the team.
When Sancti Spiritus is below on the score, it seems the players gave up. Aren't you concerned about it?
You are right. That has happened and we've taked about it. This is a different stage and we must fight since the very beginning of the game.
What is the advantage of starting in a stadium where locals do not crow it?
We expect that fans work with us. At the beginning they do so but then at the end the stadium was empty. This situation does not encourage athletes. We want them all to come see us. That is their role to play.