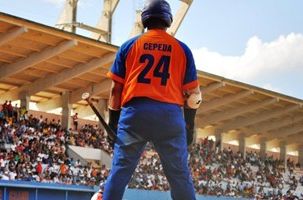 Through well known paths we enter the world of Frederich Cepeda Cruz, after 17 seasons marked by successes, injuries, contradictions…However, one must be very careful with the athlete.
Loquacious and undisturbed, he measures with pinpoint accuracy every sentence with that evidence of diplomacy that he has learned to master.
Sancti Spiritus leftfielder does not say a word without first weighing it. Just as he prepares to bat the right ball, he overcomes difficulties and hardly falls for a tricky question.
You may call him frustrated journalist or baseball ambassador, but when it comes to accepting the title I endorsed him (Homerun King), he let the first ball pass: "I'm no home runner".
Then, how can it be explained that some days ago he became Sancti Spiritus' greatest homer hitter with 248, leaving behind Lourdes Gourriel? How did he manage to accomplish a frequency of one homerun per 19.8 plate appearances and got 54 of them in the last three seasons?
The homers record, isn't it important for you?
I take it as something common. You start any activity from the scratch; you hit the ball and the singles, blasts, extra bases begin piling up. To break Lourdes's, a superb baseball player from Sancti Spiritus and Cuba, is an honor for me. That's where I understand this is big.
Hitting homeruns, a matter of luck?
I wouldn't say so but everything in life is touched by chance. However, this is all about the daily training, the dedication and the goals you set yourself. I like the records, and getting to increase my numbers to help the team. I hope to play for a long time and get to the 300 but I don't put too much pressure on me.
Then, do you chase the four-base hit?
Homers just happen, that's why I don't consider myself as a four-base hitter. I think you can get there through determination but it isn't something you seek on a daily basis. I just stand on the plate and try to hit the ball as hard as I can.
Do you think your walks have affected you to produce homers?
Baseball is full of statistics and the walk is just one of them, so I don't believe it has affected my homeruns. My main goal is to produce for the team, and if it occurs through my batting the better then, but I've prepared myself to select the right throws. I fail like everyone does, but I've managed to balance my numbers and it has worked for me.
Does being ambidextrous help you in this sense?
I think it's a gift, something really important that my father taught me. I owe him everything I know of baseball. It requires a double effort because you need to make the movements habitual for both parts. When people told me to go for just one hand, I decided that I was going to either succeed or fail using both.
Your homeruns have not helped Sancti Spiritus to obtain a title….
No, they have not. Cepeda's homeruns are not enough for Sancti Spiritus to win; it takes the team's effort. I think I helped the squad to grab a second place, two third positions and qualifying for the playoffs for 11 times. That is something many people haven't made, even if they have been champions.
Is that the reason you do not get excited when you hit homers?
I do get excited; I get happy in the inside, not only with four-base hits but also with other marks. I do feel like crying when I succeed but I just tell myself: well, it's all gone now. Sometimes there's been silence about some other important records, also big for me, like the 1000 runs scored, the 300 doubles, the 1300 walks…I've been among the first in Cuba, and those numbers remained there, in the quietness.
What happens now? Is it lack of offensive or slump?
It must be a slump; all teams go through this but we're going to get out of here.
Are you interested in hitting homeruns in other leagues, like the Mexican for instance?
Well, my first and most important goal is to continue playing for Sancti Spiritus for as much time as I can.  I'd love to remain in the Cuban baseball national team, but if I'm allowed to prove myself in other leagues, why not trying it? Even if I'm not in my twenties I still feel like a rookie, with real possibilities of facing any type of championship. Anyway I need to make myself clear: the Jose Antonio Huelga park is my home; Sancti Spiritus my homeland; this province will always come first.