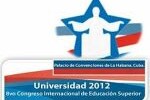 Ministers, directors of multinational organizations, rectors and prominent figures, including a Nobel Peace Prize winner, meet in Havana, which will be the world"s university capital for five days.
The role of Higher Education institutions and their relevance to achieve sustainable development will be debated at Havana's Convention Center, where about 3,000 delegates from over 50 countries will take part in University 2012 until next Friday.
Ministers from 18 countries, including Venezuela, Angola, Bolivia, South Africa, Congo, Guinea Bissau, Equatorial Guinea, Zambia, Zimbabwe, Djibouti, North and South Sudan, have confirmed participation in the forum.
Other participants include representatives from Haiti, Saint Kitts and Nevis, Belarus, Turkey, Timor Leste and the Philippines.
The deputy general director of education of the United Nations Educational, Scientific and Cultural Organization (UNESCO), Qian Tang, from China, will be present as well.
Among the important figures that will attend the meeting are 1980 Nobel Peace Prize winner Adolfo Perez Esquivel, from Argentina, and Brazilian religious and social activist Frei Betto.
The agenda on the first day includes the lecture University and Sustainable Development; a Point of View from Cuba, which will be given by Minister of Higher Education Miguel Diaz Canel.
The program also includes 19 short courses given by Cuban specialists and summarizing the topics proposed by the sector, so that foreign visitors can enroll in post-graduate, master's and doctoral courses.
Taken from Prensa Latina