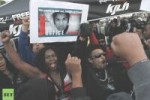 A wave of protest runs in the United States on Saturday following the murder of young black Trayvon Martin, who was shot on February 26 by George Zimmerman, a white vigilante in Florida.President Barack Obama, Republican hopefuls for the nomination for the November elections, civil rights groups, thousands of students and large sectors of U.S. society expressed criticism of the events, described by the president himself as a tragedy.
Thousands of people demanded justice in the town of Sanford, on the outskirts of Orlando, where the incident occurred, considered by many a case of racial discrimination and unfair treatment of blacks in the criminal justice system in the country.
The protests extended today to several states and cities, including New York and Philadelphia, where there is increasing rejection of the justice system in the face of the apparent impunity of Zimmerman, who until Friday had not been arrested.
In this regard, Artur Davis, a member of the School of Political Studies of the Harvard Institute, said the victim was 17 years of age and had no history of violence, and nothing in his past to suggest that he might resort to violence, but he was shot dead.
The murderer, he stated, was allowed to leave without being arrested and without even being subjected to a drug or alcohol test, confirming the impunity allowed by authorities. The issue prompted reactions from Republican presidential candidates who condemned the event on Friday as a tragedy and demanded further investigation.
The case could put the candidates in a delicate situation with some elements of the Republican base, as some self-defense laws like those of Florida are strongly supported by the National Rifle Association, a conservative group that favors the use of arms.
The day before, students from 31 schools in Miami-Dade missed classes in a mass protest over the death of Martin, which the school superintendent considered an unprecedented action organized through social media and text messages.
The protests took up ample space in print media and U.S. television, including CNN, which showed footage of the Miami Heat basketball team wearing sweaters with hoods as the one Martin was wearing when he was killed. Meanwhile, protests were scheduled in cities like Baltimore, Atlanta, Chicago and Seattle in the coming days, as part of a growing national campaign calling for the arrest of the murderer and for charges to be made.
On Thursday, participating in a rally in Florida, the Rev. Al Sharpton said that he did not go here for a temporary solution. We're here for permanent justice, he said; arrest Zimmerman now!, which is the focus of the message of many of the demonstrations in the country. (Taken from PL)