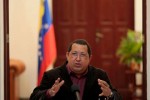 High-ranking officials of the Venezuelan government and socialist leaders have denied false rumors about the health of President Hugo Chavez in messages circulating on social networks.
The president of the National Assembly Diosdado Cabello said in a message on Twitter that the head of State continues to recover satisfactorily.  In another message, referring to the opposition Democratic Unity Coalition, he added: "These bitter people have not learned their lesson; it's been several days since they began to spread a rumor about Chavez being dead already."  Cabello also predicted the Venezuelan leader's victory in the October 7th elections with absolute certainty.
Meanwhile, Communications and Information Minister Andrés Izarra wrote on his account @IzarradeVerdad: "The 'majunche' –-the Venezuelan word for bad people– is politically dead" — referring to opposition presidential candidate Henrique Capriles — and "we will have Chavez with us for a long time."
On Sunday afternoon, Venezuelan Minister of Science, Technology and Innovation Jorge Arreaza said on his Twitter account @jaarreaza that President Chavez has approved a series of scientific projects aimed at boosting the country's economy. He also said Chavez worked on the new Labor Law together with Foreign Minister Nicolas Maduro over the weekend.
Venezuelan President Hugo Chavez is in Havana, successfully undergoing medical treatments. (Taken from RHC)