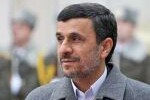 President Hugo Chavez on Monday expects to hold official talks with his Iranian counterpart Mahmud Ahmadineyad, who began a tour in this country that will also take him to Nicaragua, Cuba, and Ecuador.
Ahmadineyad was received by Executive Vice President Elias Jaua at the Simon Bolivar International Airport in Maiquetia.
The Iranian president came accompanied by Foreign Minister Ali Akbar Salehi, Trade, Industry and Mining Minister Mehdi Gazanfari, Energy Minister Majid Namju, and Economy Minister Seyed Shamsedin Hoseini, among others.
The agenda for the two heads of State includes a review of the collaboration that both nations maintain in extensive spheres of trade and economy, and the renewal of 700 contracts of cooperation.
The areas of energy, construction and high technology transfer are among the objectives of the current collaboration between Venezuela and Iran, reinforced after the recent visit of Chavez to Teheran in October 2010.
This is the fifth visit of the Iranian statesman to Caracas, since his inauguration in 2005.
Taken from PL