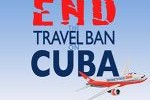 The U.S. Treasury Department has tightened restrictions on trips to Cuba by non-Cuban Americans, saying any violation of such measures would be punishable by a fine of up to $65,000.
A statement from the Treasury's Office of Foreign Assets Control (OFAC), had warned last March that the White House would retaliate against any attempt to make tourism under the U.S.-Cuba travel policy established in 2009 by President Barack Obama.
Washington's admonition was directed to companies promoting travel itineraries that do not comply with the strict people-to-people exchange program outlined by the government. It responded to allegations of U.S. visitors sun-bathing and taking salsa lessons, activities classified as leisure by the White House.
The changes apply only to U.S. residents who are not Cuban Americans. U.S. residents of Cuban descent who have relatives in Cuba can travel to the island under a different category, family reunification.
The new wording requires applicants for licenses to thoroughly detail their itineraries, explain why they need to meet with Cuban government officials and also insists that a representative of the licensee must accompany each tour.
Two paragraphs added to the regulations also reinforce the message that tourism trips are illegal and punishable by a fine of up to $65,000.
Analysts say this recrudescence of the much-criticized travel restrictions is due to pressures from conservative Cuban-American lawmakers, who are against the cultural and educational exchanges.
This particular resolution followed a demand by Senator Marco Rubio (Rep.-FL), who requested in Congress a tougher scrutiny of the overall exchange program. (Taken from RHC)