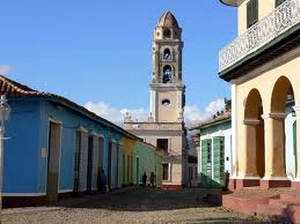 Paving ancient streets in Sancti Spiritus city is part of the program to celebrate in 2014, the region's half a millennium foundation anniversary. The works are being carried out in some 50 meters of Guairo viaduct and in 200m of Padre Quintero's street.
The most ancient and preserved places of Sancti Spiritus capital are the focus of the works, where the national monuments Teatro Prinicipal (Sancti Spiritus main theatre)and Puente sobre el Rio Yayabo (bridge over Yayabo river) outstand, explained the technical assessor for the project undertaken.
The expert said that most of the streets had already rocks beneath the current pavement, and added that after being raised, some will be used again while some others are to be brought from Trinidad, southern municipality in Sancti Spiritus province.
As part of the rescue of the epoch, lighting is also being replaced for colonial-styled lamps located in the walls of the buildings.
The works are to be concluded next January 28th with the effort of many sectors of the society. The National Monument Commission intends to include Sancti Spiritus city among the candidates to obtain UNESCO's Cultural Heritage condition.
Taken from Radio Rebelde. Translated by Escambray